Measuring with handhelds
Accurate measurements on the go
Our handheld pens provide a quick and accurate way of measuring the fundamentals of growing. No matter if you're a beginner growing your first plants or an experienced grower with commercial crops, our handheld pens will help you measure pH, conductivity and temperature so that you can stay on top of your plants' overall health.
Our pens are portable, robust and user-friendly, with digital LCD screens and straightforward functionality. When you're ready to start measuring, simply power on and go. Once you get into the habit of taking regular measurements of key parameters, you'll be on your way to unlocking new potential in all the plants you grow.
Pens for every growing medium
Take care of the fundamentals
All plants need the correct amount and composition of nutrients (food) in order to thrive. That's why it's important to track three fundamental measurements: pH, conductivity and temperature.
From a water chemistry perspective, these fundamentals impact your plants' ability to access and absorb nutrients. While conductivity indicates the amount of food available to your plants, the pH determines whether your plants can absorb these nutrients. Temperature is equally important, as it affects plant structure and growth rate.
Our pens work in a variety of growing media, so whether you're growing in soil or solution, you can take care of the fundamentals with our handheld pens.
Built for the growing environment
Long-lasting quality for everyday growing
Our handheld digital pens are designed and built with growers, for growers. This means you can feel confident that your Bluelab handheld pen will be able to withstand the knocks and drops that come with everyday growing. What's more, all our handheld pens are waterproof, not just water-resistant, so you won't need to worry if your pen lands up in your reservoir.
Our high-quality products are proudly made in New Zealand and, for complete peace of mind, our handheld pens come with industry-leading warranties.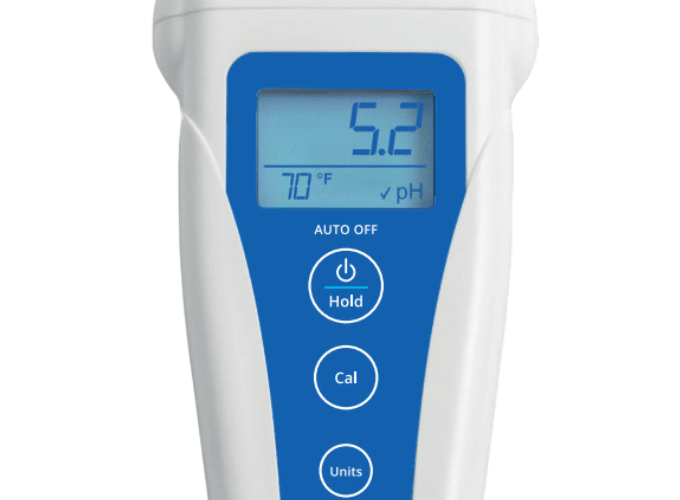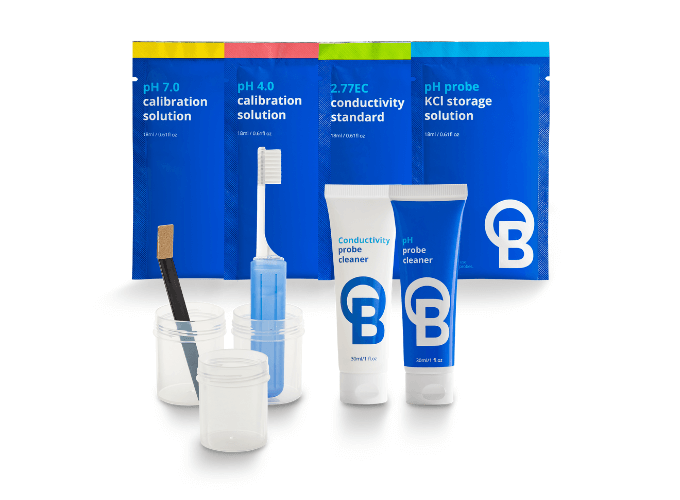 Calibrating your Bluelab pen
Calibrate for accuracy 
To ensure ongoing accuracy, you should calibrate your pH pen on a regular basis. Fortunately, with Bluelab, calibration is quick and straightforward.
Calibration is a two-step process. First, clean your pH pen and then calibrate to two pH points using Bluelab pH buffer solutions (pH 4.0 and 7.0). The on-screen information will guide you through the process. Once complete, the calibration symbol will appear on your screen.
You should recalibrate whenever the calibration symbol disappears or after cleaning your pen. If you take daily measurements, you'll need to calibrate more frequently.
Our conductivity pens are factory calibrated and won't need further calibration; however, you should clean your pen regularly.
Handheld pen maintenance
How to clean your handheld pen
All our handheld pens should be cleaned regularly to improve accuracy and longevity. Cleaning your digital handheld pen is simple. In fact, Bluelab even offers full care kits for your pH pens and conductivity pens, which contain everything you need to clean and maintain your handheld pens.
All our products come with detailed care guides, which include easy-to-follow steps for the cleaning process. In addition, our conductivity pens are designed with flat electrodes to make cleaning even easier. Once you've cleaned your handheld pen (followed by calibration for your pH Pen), simply power on and begin measuring again.
Handheld care and accessories
Shop for all your handheld products
In our shop, you'll find numerous products that will help you care for and maintain your handheld pen. Browse for pH and conductivity probe care kits, pH calibration solutions, conductivity standard solutions and pH probe storage solutions.
You'll also be able to purchase replacement pH probes as well as a range of accessories for your handheld pens. Consider us your one-stop shop for all your handheld digital pen needs.