Download your free Connect software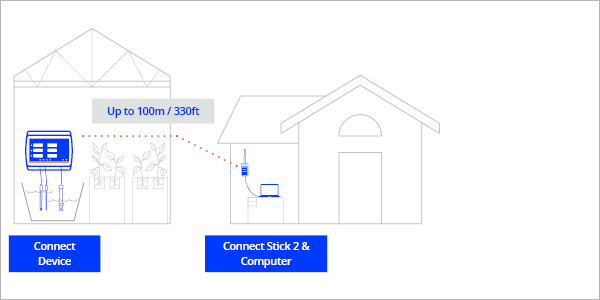 Does your Bluelab product have an orange stripe on its display? If yes, this means that your product is part of our Connect range, which allows you to stay connected to your plants 24/7.
Your Bluelab Connect device connects wirelessly to a computer located at your grow site or greenhouse. To connect, you'll need a Bluelab Connect Stick, which enables the data logging of pH, conductivity (EC/PPM), and temperature. Please note: In order to use Bluelabs' Connect capabilities, your Bluelab Connect product must be connected to your computer at all times. Ensure your PC or laptop is turned on, connected to WiFi and the Connect software is running. If your Connect software isn't running, your readings won't be available to view. You can download our free Bluelab Connect software using one of the links below.
Your logged data can be viewed on your computer and can also be accessed remotely via a mobile device. This allows you to have complete peace of mind about your crops whenever you're away from your grow site – and even when you go away on holiday!
Your Bluelab Connect software logs .csv files, which can be opened using Excel, Word, or Notepad and can be organised in folders to simplify finding and managing your data.
Please note: Always ensure that you have the latest version of the Connect software installed to make sure that you're getting the most out of your Connect devices. When you upgrade to a newer version, the software will automatically save your alarm and network settings. You can feel safe to update at any time, even midway during your growing cycle.
There are several Connect software downloads available, dependent on your computer's operating system. Check out the options below and choose the right download for you.
Windows (Windows 7 SP1 and above)

Please note: Connect for Windows is only supported on 64-bit Windows.
macOS (macOS 10.8 and above)

Linux distributions able to support Java 8+

Please note: We can only provide limited technical support for Linux (Raspbian Jessie only). Due to the variations in hardware and software in Linux systems, we recommend trying a Bluelab Connect Stick with the Bluelab Connect software before purchasing further Bluelab Connect devices.
The benefits of using Connect software
When coupled with the Connect stick and Connect software, your Bluelab Connect device allows you to stay connected to your facility and plants around the clock.
You'll be able to consistently track your fundamental parameters, allowing you to spot any fluctuations so that you can solve issues as and when they happen. After all, when you keep your growing parameters steady, you'll end up with healthier plants.
Not only will you be able to view the data being collected by your Bluelab Connect device, you'll also receive real-time notifications of any alarms you have set up.
Send data further with the Bluelab Connect Range Extender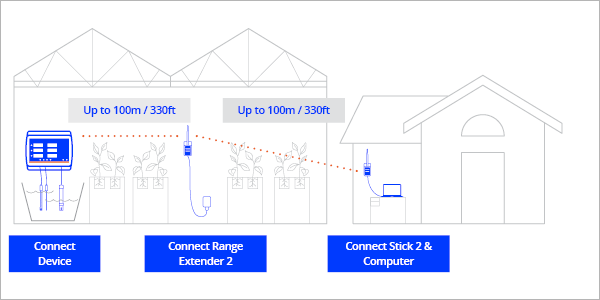 Dealing with extra-long distances at your grow site? Use the Bluelab Connect Range Extender to boost your range, sending your Bluelab Connect wireless data even further. When you team up the Bluelab Connect Range Extender with the Bluelab Connect Stick, you can increase the wireless range between Bluelab Connect devices and your computer by up to four times.