IntelliGrow is a cloud-based solution allowing growers to access, set, monitor and manage their IntelliDose or IntelliClimate control systems - anywhere, anytime.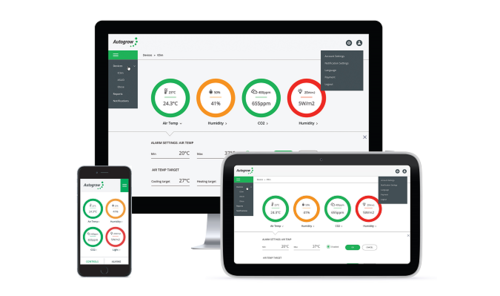 With IntelliGrow, your Intelli devices are accessible via your web browser or IntelliGrow App so you can control your growing operation remotely from your phone, tablet, or computer. IntelliGrow gives you complete visibility 24 hours a day, and enables you to manage multiple locations from the comfort of your office, using a single sign on.
Automatically manage your nutrient and pH levels, set remote alarms and data log your progress with this one simple machine.
Key features
Better growing control - Manage your growing operation anywhere, anytime by logging in via web browser or the intelligrow app.
Best-in-class infrastructure - Protect your growing data with enterprise level data security, at small business prices.
Keep your site running smoothly - Invite autogrow's experts to log in remotely when you need them.
We'll handle the tech - Seamless product updates mean you get more tools, without any disruption.
Scale as your business grows - Whether you have a single compartment or many, intelligrow will work for you.
Disaster proof - All settings, configuration and data can be saved to your local computer, allowing rapid reinstatement in the event of a failure, reducing the risk of data loss and preserving your settings.
Alerts via email, SMS and mobile - Intelligrow notifications can be sent via email and/or text message when an alarm is triggered. Each device can have their own parameters, ensuring you are only notified of situations important to the location.
User-friendly dashboard - Intelligrow's dashboard shows an instant view of key metrics, providing insight to your growing operation.
Better retrospective analysis - Intelligrow will record your nutrient levels, ph levels, temperatures, humidity, co2 and more. Use this historical information to improve your production.
Making smart controllers smarter
While age-old agricultural practices are still an effective way of growing and nurturing crops, modern technology has enhanced our farming abilities in ways that we've never achieved before.
Our software allows you to stay aware and engaged in the success of your crops, even when offsite. You and your team will all be able to respond to alerts and reduce risks of crop failure anywhere, anytime.
Simple, flexible pricing
Not all growing environments require the same solutions and, likewise, not all growers are operating at the same scale. We've created pricing options to scale to your needs and affordability.
STARTER
$24 USD ($33 NZD) per month, billed annually
or $32 USD ($44 NZD) month to month
STANDARD
$48 USD ($66 NZD) per month, billed annually
or $64 USD ($88 NZD) month to month
Online live status
Online grow control
Text/email alerting
Up to 2 devices
Online live status
Online grow control
Text/email alerting
3-6 devices