Bluelab pH Controller Connect
Stay connected to your reservoir pH 24/7
View and control your reservoir pH on your mobile phone no matter where you are in the Edenic by Bluelab app. Connect Stick required, purchased separately (visit Edenic.io for more information)
Automate pH control in reservoirs of up to 200 US gallons/760 litres
10 ml/min peristaltic pump delivers precise control
Controls pH in the up (alkali) or down (acid) direction
In-built safety lockouts prevent overdosing
Dosing routine allows for effective mixing before next dose
Auto-resume dosing when restarting after power loss
High and low alarms to alert you when pH is out of range
Acid- and alkali-resistant delivery tubing
2-metre/6-ft probe and power cable lengths and 4-metre/13.12-ft total tubing for best positioning and viewing
Flexible mounting options for walls, posts and racks
Easy-to-clean display built for clean environments
24/7 pH control for thriving crops
Save time and enjoy peace of mind
The fuss-free Bluelab pH Controller Connect will enable you to continuously maintain perfect pH levels in your reservoir, allowing you to walk away with complete peace of mind knowing that your crops are in safe hands.
That's because the Bluelab pH Controller Connect will automatically dose your reservoir 24/7 to ensure that key nutrients are soluble and therefore available to your plants at all times, creating the conditions for ideal nutrient uptake.
Forget spot checks and manual adjustments – now you can effortlessly enjoy thriving plant health and save thousands of hours without compromising on quality.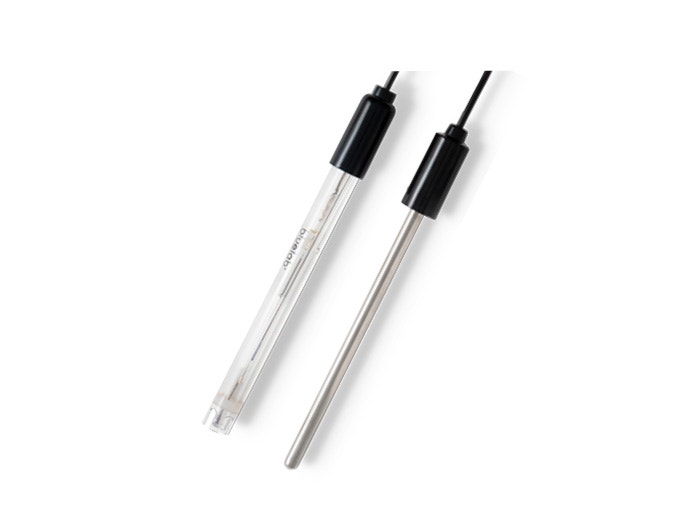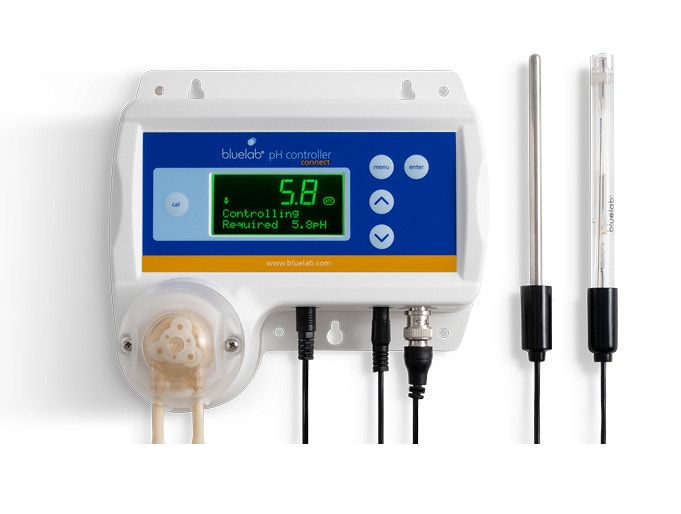 Simplified pH precision 
Fine-tune your reservoir pH
The Bluelab pH Controller Connect takes the complexity out of pH management, making precision easier than ever before. That's because the in-built peristaltic pump provides precise control, delivering doses within a 0.1 pH tolerance.
The Bluelab pH Controller Connect is also easy to use and programme; simply choose the pH control direction that's best for your growing setup in the settings. You can either adjust for the pH-up (alkali) or pH-down (acid) direction.
In addition, this controller comes with a temperature probe, ensuring that all your pH measurements and doses will be automatically compensated for temperature. Simply set your pH target and let the Bluelab pH Controller Connect do the rest.
Stay connected to your pH  
View your data remotely
The Bluelab pH Controller Connect allows you to stay connected to your reservoir pH 24/7.
To connect, you'll need to purchase a Connect Stick and download our free Connect software. Once installed on your computer, you can set up an account for you and your team members to use. All they need to do is download the free Bluelab Connect mobile app and connect using the login. You can add multiple devices to the same account.
Not only will you be able to view the data being collected by your Bluelab pH Controller Connect, you'll also receive real-time notifications of any alarms you have set up. Get connected today.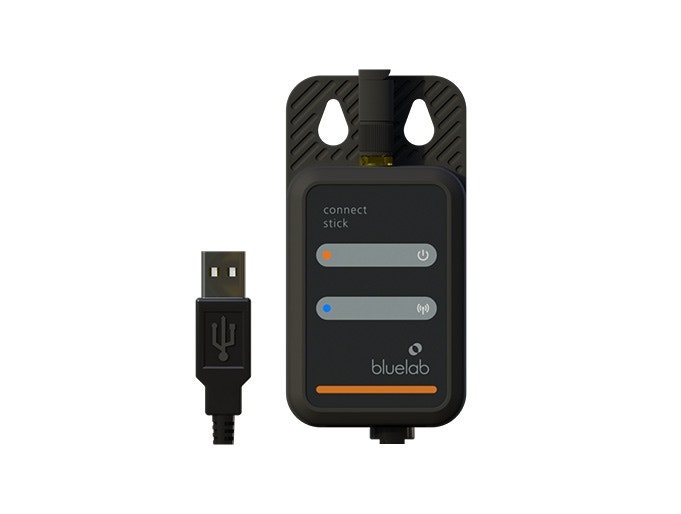 In-built safety features
Plant-safe pH management
The versatile and hard-working Bluelab pH Controller Connect has a number of features that have been designed to put the safety of your plants first.
You can set discreet visual high and low alarms for your preferred pH targets; these alarms will let you know whenever your pH is out of range. To help keep your plants safe from excessive doses, dosing will not occur whenever your controller is in alarm mode.
What's more, you can set and customise dosing on- and off-times in the settings, which allows for effective mixing before the next dose, ensuring that you never overshoot your pH adjustments.
Bluelab pH Controller Connect maintenance
Increase range with the Connect Range Extender 2
While no calibration is required for temperature, you will need to calibrate your controller's pH probe on a regular basis. Stock up on everything you need to clean, maintain and calibrate your probes by purchasing a Bluelab Probe Care Kit.
Working within a large growing facility? Use the Bluelab Connect Range Extender 2 to boost your wireless range, sending your Bluelab Connect data even further.
When you team up the Bluelab Connect Range Extender 2 with the Bluelab Connect Stick, you can increase the range between Bluelab Connect devices and your computer by up to four times.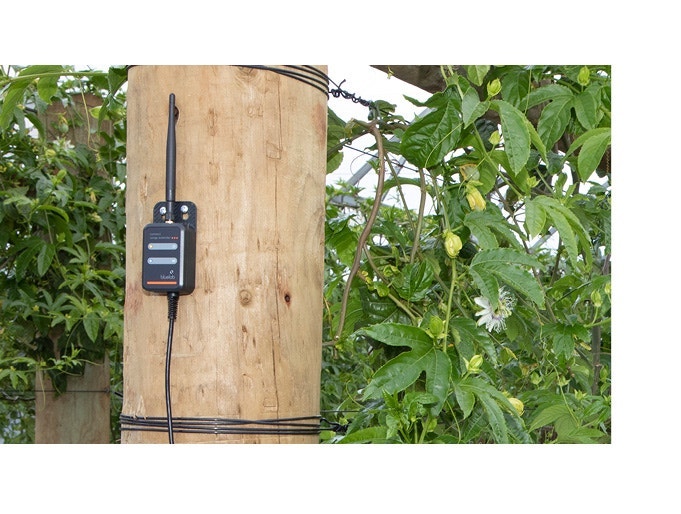 More Information
More Product Information
Product Warranty Period Details
Two-year guarantee for the Bluelab pH Controller Connect and Bluelab Temperature Probe; six-month guarantee for the Bluelab pH Probe (proof of purchase is required). Find out more about our product warranties.
Product Features / Benefits

Set and maintain the required pH level in a reservoir
Control pH down or pH up
Set low and high alarms, and receive alerts direct to your phone
Protect the crop with controller lock-out functions that prevent overdosing
Connect to the Edenic by Bluelab App for remote monitoring and control wherever you are (Connect™ Stick required. Purchased separately).